About TCR
The first races using the TCR regulations took place in 2015, and since then the rules set has spread throughout the circuit racing world, being adopted by more than a dozen regional and national championships. In 2017 races with TCR cars span 23 different countries.
Of these the most high profile championship is the TCR International Series. The 2017 season includes some of the most famous circuits in the world, including Spa-Francorchamps in Belgium and the historic Monza circuit. The championship features privateer, customer teams with machinery representing a number of the top motor manufacturers.
As well as sprint racing TCR-specification machinery also features in multi-class endurance events, with specific classes in the international 24H Series and the Nürburgring 24 Hours.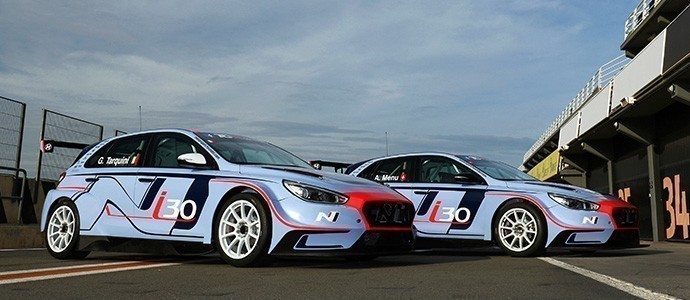 Car
Hyundai i30 N TCR
The creation of the i30 N TCR represents Hyundai Motorsport's first steps into circuit racing, and entrance into one of the fastest growing categories in motorsport.
The design phase of our TCR project began in September 2016, with the first completed test car running in April 2017. The TCR project continues the expansion of Hyundai Motorsport, with the new car to be built and developed by the Customer Racing department at the team's headquarters in Alzenau, Germany.
Based on the road-going New Generation i30 model, in line with the TCR regulations the i30 N TCR is powered by a two-litre turbocharged engine connected to a six-speed sequential gearbox and is fitted with a 100-litre fuel tank. The i30 N TCR will be sold to customer teams, with the first deliveries expected in early December 2017.